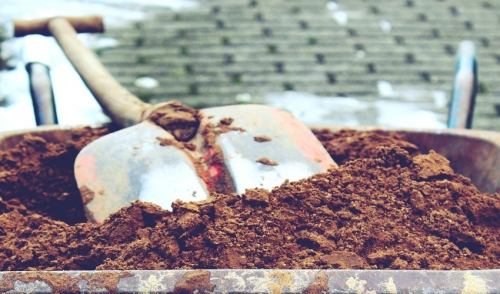 Gardening is an ancient art, hobby and passion, but there is always something new to try. From new cultivars to innovative techniques to completely rethought garden designs, the ever-changing nature of gardening can make it overwhelming to discover new trends and learn which ones may become your new favorites. 2017 promises to be a great year for gardening, whether it is for an enjoyable landscape, incredible edibles or even indoor greenery. Which of these hot trends will be part of your 2017 gardening plans?
Top 10 Gardening Trends for 2017
Active Spaces
As more medical and psychological research reveals the benefits of time spent in nature, fun outdoor spaces are getting ever more popular in the garden and landscape. Instead of just a playground for the kids, try incorporating a horseshoe pit, bocce ball court or putting green into the landscape for adults to play. Designated pet play areas, yoga hideaways or meditative corners are also becoming more popular.


Dwarf Cultivars
As more people move to urban areas and gardening areas grow tinier, dwarf cultivars of familiar trees and shrubs are getting more widespread in landscaping. Dwarf plants are also great for use in container gardening, and are ideal for gardeners with limited mobility or busier schedules to care for without sacrificing the quality of the plantings.


Planting for Pollinators
With growing concerns about the effect of industrial chemicals on essential pollinators, backyard gardens designed to nurture different pollinators – bees, butterflies and hummingbirds – are growing more popular. These gardens may use stunning flowers, flavorful veggies or rich herbs, all planted to offer host plants and food for natural pollinators.


Chemical-Free Pest Control
More and more research is available to show negative effects of chemicals in our environment, and many gardeners are opting for chemical-free practices that include cultivating natural pest control with bat houses and attracting insect-eating birds. Choosing herbs that repel mosquitoes and other bothersome insects, such as thyme, rosemary, chives and sage, is another popular method to reduce chemical use.


Living Walls
To make the most of limited gardening space in 2017, gardening walls are gaining popularity. From elaborate and formal espalier patterns to simple trellises, arbors and other vertical gardening structures, these options help gardeners use every foot of space available to take their gardening to new heights.


Growing Gold
Gold is the hottest garden color for 2017, from lustrous foliage to gleaming blooms and shimmering bark and stems. Gold adds a richness to any gardening space, and gold hues are available in a wide range of plant types, sizes and species to meet any gardener's preferences. Gold accents, such as wind chimes, gazing balls or other accessories are also popular.


Simplified Landscapes
Instead of adding one more new plant, another variety of shrub or another flavor of herb to the landscape or garden, the hot trend in 2017 is to simplify. This means enjoying your favorites in all their glory, while removing plants that are past their prime – consider this decluttering for the garden. Mass plantings and naturalization are also hot for today's simplified gardens.


Growing It Forward
Instead of paying it forward, gardeners are focusing on growing it forward. Community spaces, such as nurturing a flowerbed in a public space or planting a tree all the neighbors will enjoy, are great options. Another hot trend is community gardens that help provide fresh produce, flowers and herbs for hospice homes, senior centers, schools and food banks.


Natural Dye Gardens
For gardeners who want to do something new and unique in their garden, an unusual 2017 trend is to grow plants that can be used for natural coloring dyes. From bright flowers and herbs to colorful vegetables and fruits, the natural dyes from these harvests can be used for fabrics, yarns, papers and more, all without excessive chemical treatment.


Exotic Houseplants
While the outdoor trend may be for simplification, gardening indoors is taking on more and more exotic tastes. This may mean unique tropical houseplants, subtle heirloom herbs with sultry flavors or even unusual indoor trees that can become statement pieces in modern décor. Air plants, orchids, succulents and terrariums are all top trends for indoor gardening.
No matter what your gardening preferences or practices, there are new and exciting trends to try in 2017. Of course, the hottest choice of all is just enjoying your garden and discovering a new trend of your own!