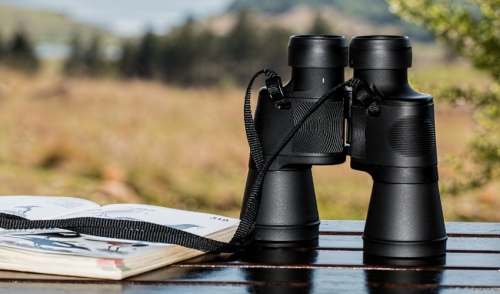 Birdwatching is one of the fastest growing hobbies and is popular with all ages, from toddlers to seniors. No matter what age or experience level your favorite birdwatcher may be at, there are great gifts you can give them for any occasion – holidays, birthdays, anniversaries, or just because.
Books
Check the nature section of any bookstore and to find a wide selection for a birdwatcher's library, from field guides to bird feeding manuals to natural history books, all about birds. Many children's books feature birds, and there are even novels, biographies and other titles featuring birds.


Magazines
Give the gift that lasts all year with a subscription to a birdwatching magazine. There are multiple titles available, or opt for any other nature-oriented magazine that will occasionally feature bird-related stories.


Bird Feeders
A new feeder is always a welcome gift for any birdwatcher who enjoys the birds in their backyard. Designs range from whimsical to practical, and feeders are available in many different sizes, shapes and colors to suit any birdwatcher's preferences.


Birdseed
Birdseed may not be the most creative gift, but it will be one of the most welcome and is something birdwatchers always need. Choose a high quality seed or opt for a different food such as nuts or suet, or even novelty seed wreaths, bells or other shapes.


Bird House
Help birdwatchers invite birds to nest in their yard with a new bird house. Choose a responsible design with the proper entrance hole size for birds to use, or opt for a nesting shelf or supply of natural nesting material.


Bird Bath
Adding water to the yard is a great way to attract birds, and a simple bird bath is a great gift for birdwatchers. If they already have a suitable bath, consider giving related accessories such as a dripper, wiggler or specialized scrub brush.


Binocular Tools
Dedicated birdwatchers will already have their own binoculars, but accessories such as a carrying harness, lens cleaning pen, microfiber cleaning cloth or handy carrying case can all be welcome gifts.


Plants
If a birdwatcher also enjoys gardening, bird-friendly plants can be fun gifts to help them combine their interests. Packets of nectar-rich or seed-bearing flower seeds can help them plant a bird garden, or choose native, wildlife-friendly potted flowers or shrubs.


Memberships
Give a birdwatcher more places to go birding with a gift membership to a local nature preserve or wildlife refuge. If there are no local options, memberships to birding organizations such as the National Audubon Society or the American Birding Association are top choices.


Novelties
There are many bird-themed novelty items available that would make fun gifts. Choose a mug, shirt, magnet, bookmark or other trinket with a favorite bird species on it, or opt for artwork, figurines, or stuffed toys. And don't forget the bird-themed card to go with it!
The best gift you can give any birdwatcher is just to enjoy the birds with them – go birding with them to celebrate their special day, and it will be a wonderful gift for you both!